Annual Program – Community Projects
In 2021, a new Community Projects component was introduced to our Annual Program, providing an opportunity for participants to undertake a community focused project and engage in a learning format that is both active and experiential. Participants were able to develop new skills, grow their capabilities, broaden their networks and create an impact within their community.
Supported by mentors heralding from our Annual Program Alumni, each Community Project focuses on achieving measurable outcomes that provide benefits to the region, in alignment with the Ovens Murray Regional Partnership Strategic Plan.
Project teams undertake project management training, and then work together to thoughtfully develop project concepts, scopes, timelines, budgets and risk assessments. Upon acceptance of their Community Project by AVCL, each team undertakes the work on their project over the course of the Annual Program, providing regular reporting throughout the process, and concluding with a closure report and presentation at Graduation.
Below are the outcomes from both our 2022 and 2021 Community Projects, supported through seed funding generously contributed by the Kyamba Foundation and Hugh Williamson Foundation.
Connect 5 | Food System mapping for the North East
Overview: Connect 5 undertook a story telling project to highlight some of the outstanding community food projects within the North East & Border region, to be utilised as exemplars of success on the Australian Food System Directory "Sustain" website.
Outcomes: With a collective passion for connecting and supporting people through food, Connect 5 used their skills and contacts to develop a discrete project that has added value to a much larger North East & Border region food system mapping project.
The group coordinated three, high quality case studies featuring local community food projects in Mt Beauty, King Valley and Albury Wodonga. The case studies will be featured on the "Sustain" website, providing individuals and other community food project groups with insight, guidance, inspiration and connection opportunities around different food projects. These films also provide an opportunity for the community organisations featured to create and utilise for their own context, including for marketing and funding purposes.
Connect 5 also contributed to the design and development of a data collection tool which allows mapping of relationships between food system groups and organisations. This work will support Gateway Health and Sustain to better show how our food system connects and supports our region and is being utilised to capture the mapping project alongside Sustain.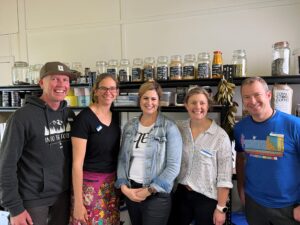 Green Tape | Activating the Great Valley Trail
Overview: Green Tape's project raises awareness of the limited ability for businesses to provide food, drink and other services that improve the visitor experience on the North East rail and cycle trail network.
Outcomes: Green Tape successfully hosted an event from 9am – 1pm on Tuesday 4 October on the Great Valley Trail in Freeburgh. A coffee cart, Muzza's Mugs and Jaffles, provided coffee, drinks and food throughout the morning to attendees.  All of the community was invited to participate, with 70 visitors through the site on the day, many stopping for a drink and a rest.
As part of the event, Green Tape provided an interactive presentation to key stakeholders including MP Tim McCurdy, Alpine Shire Council Mayor Sarah Nicholas, Alpine Shire Council CEO Will Jeremy, and Tourism North East CEO Bess-Nolan Cook to highlight the barriers to activating the Great Valley Trail, and some options to address the problem which affects rail and cycle trails across the whole of North East Victoria. This allowed stakeholders to view and experience the issue first-hand and discuss pathways to finding a solution and was a very positive and collaborative event.
Green Tape successfully achieved their project objectives, with the issue acknowledged by the decision makers that attended the event.  While it is beyond Green Tape's scope to solve the issue, we look forward to supporting government and applicable organisations on working through the next steps towards a solution.
Team 360 | SNAP IT!
Overview: SNAP IT! is a participatory project taking place across North East Victoria supporting positive health and wellbeing impacts of students grade 3-6 following two adverse events (pandemic and bushfires) in the region. The project aimed to connect with small primary schools across the North East, equipping students with a single-use camera, and asking them to respond to the question "What do you love about where you live?", inspiring belonging, a greater sense of self and pride of place.
Outcomes: Through a consultative process, the team engaged with Mitta Mitta Primary School, Myrrhee School and Eskdale Primary School to undertake the project. Team 360 developed individual camera kits for the teachers and students, each including the single use camera, some photography guidelines and information as to the purpose of the project. 33 students participated, each responding to the 'what do you love about where you live' written prompt and also further telling that story through their images taken.
Team 360 had the images digitised, and then worked creatively to produce a photobook, representing all students involved. A copy of the photobook was provided to all participating schools providing the opportunity to share the stories with others across the region.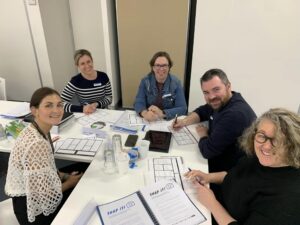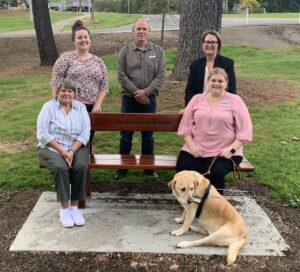 Team United | A Chair To Share
Overview: Team United aimed to create a Park Bench, also known as 'A Chair to Share', to advocate for Mental Health in individuals of all ages across the North East. The objective was to create a space and tool for community members to sit, alone or with a friend, and reflect, speak up and be present. The park bench would be engraved with 'You'll Never Walk Alone' to incorporate the sentiments of a different community project created by local members, and link in the importance of speaking up about mental health struggles.
Outcomes: Team United exceeded their objective and delivered not one, but three park benches located throughout Towong Shire in Corryong, Indigo Shire in Yackandandah and the Rural City of Wangaratta in Murmungee. Team United engaged with the local Yackandandah Men's Shed and local crafts men from Corryong and Beechworth to construct the park benches, and worked alongside the three individual local councils to ensure the placement of the park benches throughout our towns. The park benches have each been engraved, with the quote "You'll Never Walk Alone" which outlines and advocates for the battle against the stigma of mental health and provide the views and users support information through a QR code and brochure. Team United celebrated the project with a small event at the Corryong park bench, located in Corryong CBD , with locals coming together in support of the project outcomes.
Click here to access more information and resources for the "A Chair To Share" project.
Acorn | Ready, Set, Life
Overview: Team Acorn's Community Project focused on delivering an interactive workshop on developing the financial literacy skills of young people, to assist them in their transition to adulthood and enable them to make informed decisions about the next steps in their journey. The aim of the project was to empower and connect our future leaders.
Outcomes: Team Acorn engaged with Mt Beauty Secondary School, and arranged the facilitation of a financial literacy skills workshop for a group of Year 10 students. The workshop was delivered by The Mandala Project in August 2021. The success of the workshop was such that there is now scope for further workshops to be delivered, with planning underway for delivery to take place in Term 1 of 2022.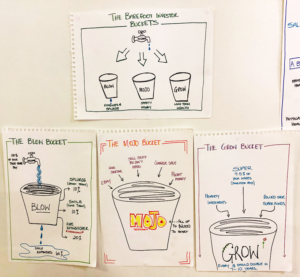 Chrysalis | Small Change, Big Impact
Overview: Chrysalis utilised a process of storytelling and capacity building to inform the development of a 12-month calendar which shares stories of everyday regional people who do small things that collectively reduce our footprint on the earth. The process of gathering information strengthened relationships and connections between people and their community, with a focus on diversity and inclusion. The final product will celebrate individual action and inspire regional people to reduce their carbon footprint to address climate change.
Outcomes: Chrysalis were able to connect with a range of individuals across North East Victoria, learning more about their sustainability efforts and how small efforts can create a large impact. Using the initial seed funding provided, Chrysalis engaged a graphic designer to develop a reusable monthly calendar featuring these stories, and were able to produce hard copy calendars, on enviro-friendly paper, to be distributed across the North-East. The digital version of the calendar is also available to download by clicking here.
Jaspa | Diversity and Inclusion Mural
Overview: The goal of this project was to create a vibrant mural in Wangaratta with a theme of diversity and inclusion, cultivated through a process of youth consultation and engagement. Consultation with young people is a key part of the process, helping to draw out ideas and create conversations that contribute to the development of the theme of the mural. These themes will be interpreted by a carefully selected artist and translated into an image for the mural.
Outcomes: Jaspa were able to collaborate with Yarrunga Primary School, with an appropriate space for the mural being identified on one of the school buildings. Through a consultative and inclusive process, Team Jaspa engaged with local artist, Chris Henderson, to undertake a two staged approach to develop and paint the mural which was completed in December. Jaspa were also successful in obtaining additional funding through BendigoBank and AlayaCare, ensuring the project was able to be completed in full.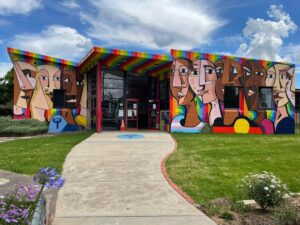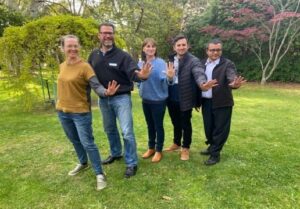 The Quintets | Bringing Communities Together
Overview: Originally, the Quintets had planned to host and publicize an event at the 2021 Wangaratta Show that encouraged and supported diverse volunteer organizations within the Rural City of Wangaratta to set up information stalls to connect with the public for the purpose of telling their stories, sharing information and attracting new volunteers. The Quintets aligned themselves to collaborate with the Grit and Resilience Project, to produce a guide that can assist local community groups to develop and host their own community gatherings. Gatherings and events in the communities will strengthen connection, improve mental health and reduce suicide.
Outcomes: Working with the Grit and Resilience Project, the Quintets are currently developing a  comprehensive manual that will be an integral part the Grit and Resilience program community lead initiative for communities to have more community events. Supported by The Rural City of Wangaratta, the guidelines will ensure community groups are best placed to develop and host a successful event.
Ohana | Unspoken Words
Overview: Ohana's Community Project originally focused on gathering the stories and experiences of people in Corryong. Under the advice of AVCL, they then pivoted to profiling graduates of the AWECC M-Incubator program, understanding the stories of the multicultural community members of Albury Wodonga. After frequent setbacks due to COVID and timelines, Ohana have re-developed a project sharing their own journey of challenges, delivering a community project outcome and working with a remote team during times of frequent and uncontrolled change.  
Outcomes: Ohana have developed a presentation outlining key learnings related to working in a team, the project management experience and trying to develop and deliver project scopes during Covid that will be presented at the 2021 Graduation. They hope by telling their story, others will relate and learn from the experience when facing the challenges of delivering projects in the community.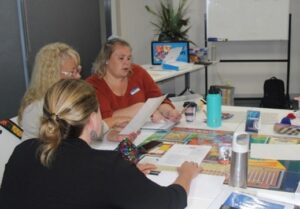 Below is a recording of the Community Projects presentations as given by our 2021 Annual Program participants during the 2021 online graduation event.