Our flagship program, the Alpine Valleys Community Leadership Program, will always be our main priority. However, to complement this program, we also offer a range of leadership training for community, business and government organisations that is designed to meet their specific leadership needs.
The Alpine Valleys Community Leadership Program aims to foster the development of a vibrant network of community and business leaders.
Offering potential and emerging leaders an intensive annual program that develops the participant's personal leadership skills, their knowledge of the region and their network of professional and community contacts.
The program is delivered, every year, from July to May. Each year we select up to 24 participants who represent a diverse range of ages, professions and communities. Participants meet fortnightly, at locations across the region, to work with the region's most outstanding leaders. The course is also includes three retreats, where the personal leadership skills of the participants are developed. The program culminates with a visit to Melbourne, to meet with leaders who are ordinarily not accessible to those living in regional Victoria.
Our short courses include:
Ovens Murray LGBTIQ+ Leadership Program applications open
If you're over sixteen and identify in our region's LGBTIQ+ community, consider participating in what we believe to be regional Victoria's first community leadership program for aspiring LGBTIQ+ leaders.
We're partnering with Gateway Health WayOut Wodonga and Hume Phoenix to deliver this training in February and March next year. The program is free thanks to funding from the Victorian State Government's LGBTIQ+ Community Grants Program 2016-17
Rural City of Wangaratta Community Leadership Program
Community minded residents of Wangaratta and district are encouraged to apply for the 2018 Rural City of Wangaratta Community Leadership Program.  This four session short course will be delivered by AVCL over three Sundays and one after business hours session, commencing on Sunday 11th February.  For further information see the attached flyer and Expression of Interest form, or contact Council council@wangaratta.vic.gov.au  Expressions of Interest close on the 31stJanuary 2018.
Governance Foundations for Not for Profit Directors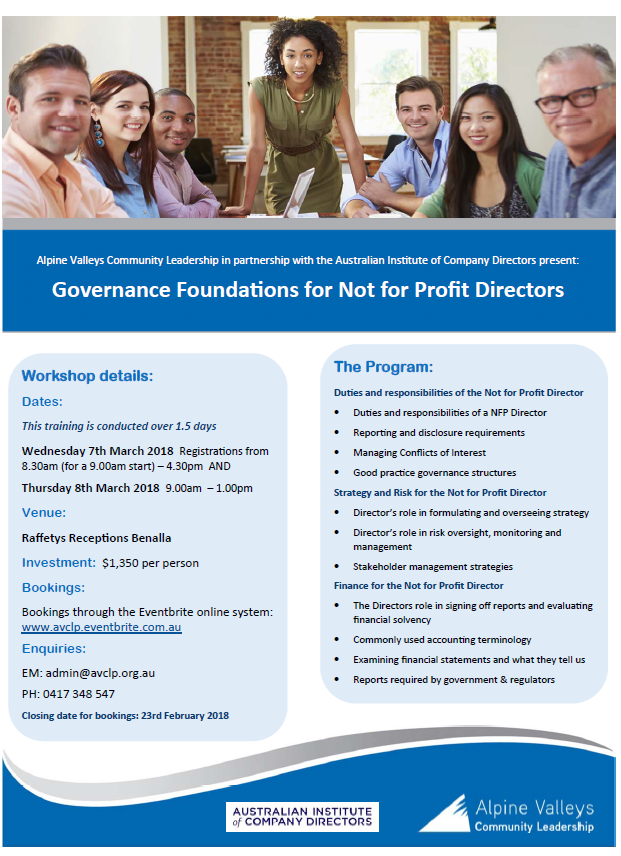 In partnership with the Australian Institute of Company Directors (AICD), we have assisted in the local delivery of a number of this highly-respected course. The one-and-a-half-day training course has been used by a range of regional boards and committees who want to improve the governance of their respective organisations. Participants study essential board skills such as governance, strategy, and risk and finance.
We are now taking bookings for our March 7th & 8th 2018 Program to be delivered out of Benalla. To book please click HERE
For more information, please email admin@avclp.org.au
Governance 101 Training
In response to community demand, AVCL has developed this half-day basic governance training for community organisations that need to refine their governance skills. If your organisation is interested in the training please contact admin@avclp.org.au for further information.
Community Landcare and Agriculture Leadership Program
Specifically designed for those working in the Agriculture and Natural Resource Management sectors, a record 24 participants completed the 2017 program, travelling from North East Victoria, the Border regions and the Goulburn Valley, to complete the seven-session program. Four courses have been delivered, so far, in partnership with AVCL, the North East Catchment Authority, the Goulburn Broken Catchment Management Authority and Goulburn Murray Community Leadership.
The program has been specifically designed to increase the knowledge, leadership skills and networks of the participants. The group is inspired by meeting leaders, working within the sector, and by examining innovative projects. This program built on our previous Agribusiness Next Gen Leaders Program.
The program includes: Leadership skill development, Community leadership, Resilience and community capacity building, Innovation and entrepreneurship, Communication skills, and networking. The program also includes an overnight study tour, through the Goulburn Valley, to study innovative land use practices and to learn about the issues and opportunities that confront Australia's Food Bowl.
We can design and deliver leadership programs and workshops to meet your community's needs.
For example:
City of Melton Community Leadership Program
This program features guest speakers, interactive activities and networking opportunities and provides a leadership development experience, with long-lasting benefits, for participants and the community.
We designed and delivered a unique four-session civic participation program for the City of Melton. The program was designed to develop the knowledge and skills of citizens who would like to find ways to contribute to their community and to develop the confidence to lead community groups in one of the fastest growing multicultural municipalities in Victoria. Thirty community members participated in the program.
Skills Workshops
Look to us, if you need to host capacity building workshops throughout the Northeast region. We also deliver monthly skills workshops for our Alumni and the general community. To see our current skills workshops click HERE
Some examples of the types of workshops we have already hosted include:
Working With The Media Workshop – Wangaratta
Mentoring Workshops – Wangaratta and Wodonga
Stakeholder Relationship Workshop – Wangaratta
Conflict Identification and Resolution Workshops – Wangaratta, Wodonga, Mudgegonga, Mansfield, and Benalla
Fundraising Made Easy – Wodonga
Social Media Workshop Series – Mansfield, Corryong and Myrtleford
Public Speaking Workshop – Wangaratta