The Alpine Valleys Community Leadership Program has been providing leadership development opportunities for North East and Border communities since 1998, and there are currently over 392 graduates of the Annual Program. Thank you for expressing an interest in our 2018-2019 Program.
If you are unable to complete the form online, please download, complete and return the AVCLP Application Form 2018 2019 Closing 22nd June 2018 or Contact Us for further assistance.
Application Process
Applications close at 5.00pm on Friday 22nd of June 2018
Applications will be reviewed by a panel and short listed applicants will be required to attend an interview
Interviews will take place from mid-June to early July 2018
All applicants will be notified of the outcome by Friday day the 29th June 2018
Successful applicants will be required to attend the compulsory Opening Retreat for the 2018-2019 Program, scheduled for Friday July 27th and Saturday July 28th 2018 .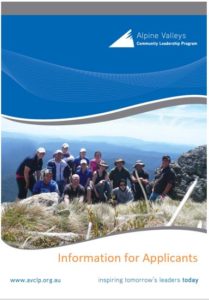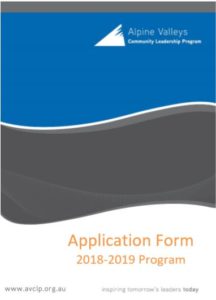 Instructions and Advice for Applicants       -Please read carefully-
The selection panel uses the criteria detailed in this application. Please read, and answer these questions carefully.
Complete each section in full.
Type or print all answers clearly.
Limit answers to available space.
One letter of recommendation will be accepted. No other attachments will be considered.
Where applicable, applications must be signed by both the Applicant and their sponsor.
Applicants must have full support of the organisation they represent. Individuals may nominate themselves.
All nominations are subject to confidential evaluation.
Attendance at the Opening, Mid-Year, Closing Retreats and Graduation is mandatory. Participants must meet the minimum attendance requirement of 80% to graduate from the Program.
For each Program intake a diverse mix of gender, location, private/public, and profit/non-profit sector participants are sought. The Program is committed to selecting candidates that represent communities from across the entire region.
Given the time commitments required to complete AVCLP, and to be fair to the individual, their employer and their families, it is unlikely that the panel will select an applicant who is also enrolled in other tertiary studies.
Offers in the program will be made by early July. Program fees are to be paid before the second program day unless other arrangements are made at interview.
NOTE: AVCLP is a highly regarded program and places are highly sought after. Some suitable candidates may not be chosen for this year's Alpine Valleys Community Leadership Program because of the size restrictions of each year's group and the need for diversity in group composition. However, individuals not selected are strongly encouraged to reapply in subsequent years.
For questions regarding the application process, please contact the Program Coordinator,
Karlie Langdon, on 0437 827 548, or via email leaders@avclp.org.au