Executive Officer:  Kim Scanlon
Kim Scanlon is the Executive Officer of AVCLP.  Kim has a background in education and particularly Outdoor Education, and has also worked in community development roles for State and Local Government.  A graduate of AVCLP, (2008) and the Australian Institute of Company Directors, Kim has a wide range of experience in the not for profit sector reporting to, and serving as a Director on numerous community Boards and Committees of Management.  Kim's responsibilities lie with the management of the organisation as well as the design and delivery of a range of short courses and leadership workshops for alumni and community members. Kim also works with a range of organisations to develop courses tailored specifically for each organisation- from half day workshops, and speaking engagements to multi day courses.
Contact Kim: admin@avclp.org.au
Annual Program Coordinator:  Karlie Langdon
Karlie's background is in education, training and community development, particularly catering for vulnerable communities and the youth sector. Karlie is responsible for the design and delivery of AVCL's flagship program, the Alpine Valleys Community Leadership Program. Any queries about our Annual Program including how to apply, the commitment needed to participate, content and how you can support the program can be directed to Karlie.
Projects Officer:  Kate Bell
Kate has extensive experience in membership support and event management and marketing.
Kate supports Alpine Valleys Community Leadership with a range of marketing tasks, including production of our newsletter, updates to our website and development of our database.  Kate also assists with event management, including delivery of our short courses, workshops and special events.  Alumni and supporters can contact Kate to update their contact details.
Contact Kate:  office@avclp.org.au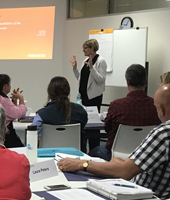 Special Projects Team
Our community engagement specialists know what makes communities tick.
Alpine Valleys Community Leadership is able to draw from its Annual Program's resources and networks to provide a talent pool of program presenters, facilitators and 400-strong AVCLP Alumni as required.
This talent pool includes a range of specialists with the ability to deliver program content and to facilitate workshops.
Alpine Valleys Community Leadership works closely with the Victorian Regional Community Leadership Program Secretariat to deliver state-wide community development and leadership development initiatives.